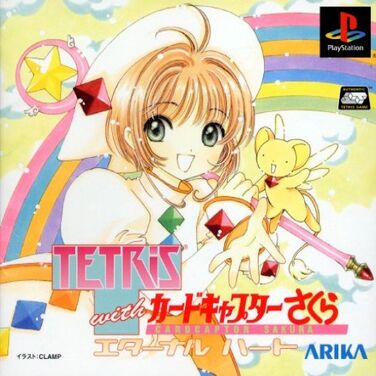 Tetris with Cardcaptor Sakura: Eternal Heart was released on August 10, 2000, this game was published by Arika for the Playstation 1.
Information
Even though Sakura successfully captured all of the Clow Cards, strange events are still happening in Tomoeda! Help Sakura transform all of her Clow Cards into Star Cards by filling in specific rows with Tetris blocks.
Story Mode
Choose between Easy, Normal, or Hard mode and play through 18 stages of fun! 
Battle Mode
Select either Normal or Survival mode and choose from 13 different characters to play with.
Gallery
Ad blocker interference detected!
Wikia is a free-to-use site that makes money from advertising. We have a modified experience for viewers using ad blockers

Wikia is not accessible if you've made further modifications. Remove the custom ad blocker rule(s) and the page will load as expected.