"Obey the command! Water Dragon, Come Forth!"
-Syaoran Li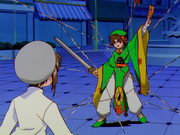 Hiragana = すいりゅうしょうらい
Romaji = Suiryuu Shōrai
Literal English = Water Dragon: Summoning
English TV = Element: Water
Users = Syaoran Li
Suiryuu Shourai is one of Syaoran Li's attack spells, using his Ceramonial Jian, and a Taoist paper charm, (A Jufu (呪符)), with the character 水 on it. It can be used to douse an area with water.
See Also