Catch You Catch Me
Singer
Gumi
In album
Catch You Catch Me
Release
Apr 22, 1998
Genre
J-Pop
Length
3:47
Language
Japanese
Episode
Episode 1-35
Catch You Catch Me is the opening song to the first season of Cardcaptor Sakura , sung by Megumi Hinata under the pseudonym GUMI.
The song was originally included in the first album of the soundtrack of the anime, Cardcaptor Sakura Original Soundtrack I , which was released on July 23, 1998 and contained a total of twenty tracks, where Catch You, Catch Me was the number one song Album.
A version sung by the seiyu of Sakura - Sakura Tange - and the TV version were released on the album Cardcaptor Sakura Original Soundtrack II. A Karaoke version was also released.
Video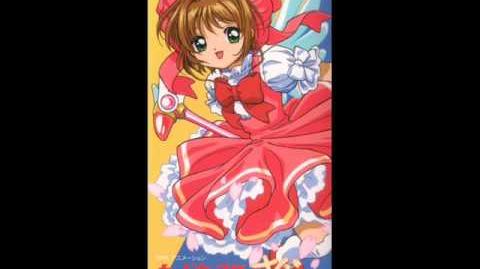 Lyrics
ai taina ae naina setsuna ina kono kimochi
ie naino ii taino chansu nogashi tebakari

datte datte tsubasa hiroge futari de
sora wo marason yume wo yunizon shitai

hora catch you catch you
catch me catch me matte
kocchiwomuite suki datoitte

sou nice to meet you good to see you kitto
watashi no omoi anatano ha^to ni
ton de ton de ton deike mayowa nai

tamanine nakunacchau shintai no batteri^
anatano egao de itsumo juuden mantan
pawa^ bakuhatsu shichae

o negai o negai mazuhao tomodachi kara
waratte mitsu mete tanoshi i mainichi nishitai

hora catch you catch you
catch me catch me zettai
unmei datte o niai datte
sou nice to meet you good to see you kitto
dare nimo make nai anatani sekai de
ichiban ichiban ichiban ichiban ko . i . shi . te . ru

hora catch you catch you
catch me catch me matte
kocchiwomuite suki datoitte

sou nice to meet you good to see you kitto
watashi no omoi anatano ha^to ni
ton de ton de ton deike mayowa nai

hora catch you catch you
catch me catch me zettai
unmei datte o niai datte

sou nice to meet you good to see you kitto
dare nimo make nai anatani sekai de
ichiban ichiban ichiban ichiban ko . i . shi . te . ru
I want to see you, but I can't see you, this feeling is painful
I can't say it, but I want to say it, I only lose my chances

However, however, spreading our wings together
I want to marathon through the sky and dream in unison

Hey, Catch You Catch You Catch Me Catch Me, wait up
Look this way and say "I love you"
Yeah, Nice to Meet You Good to See You, certainly
My feelings will go flying, flying, flying to your heart
Never getting lost

Sometimes, my body's battery runs out
With your smile, I always get fully charged, exploding with power

Please, oh please, because we're friends first of all
I want to make every day fun, laughing and looking at you

Hey, Catch You Catch You Catch Me Catch Me, absolutely
Even if it's destiny, even if it matches me
Yeah, Nice to Meet You Good to See You, certainly
I won't lose to anyone, you're my
Number one, number one, number one, number one in the world
Who · I'm · in · love · with

Hey, Catch You Catch You Catch Me Catch Me, wait up
Look this way and say "I love you"
Yeah, Nice to Meet You Good to See You, certainly
My feelings will go flying, flying, flying to your heart
Never getting lost

Hey, Catch You Catch You Catch Me Catch Me, absolutely
Even if it's destiny, even if it matches me
Yeah, Nice to Meet You Good to See You, certainly
I won't lose to anyone, you're my
Number one, number one, number one, number one in the world
Who · I'm · in · love · with
会いたいな 会えないな 切ないな この気持ち
言えないの 言いたいの チャンス逃してばかり

だって だって 翼広げ二人で
空をマラソン 夢をユニゾンしたい

ほら Catch You Catch You
Catch Me Catch Me 待って
こっちをむいて スキだといって

そう Nice to Meet You Good to See You きっと
私の想い あなたのハートに
飛んで飛んで飛んでいけ 迷わない

たまにね なくなっちゃう 身体のバッテリー
あなたの笑顔で いつも充電満タン
パワー爆発しちゃえ

お願い お願い まずはお友達から
笑って 見つめて 楽しい毎日にしたい

ほら Catch You Catch You
Catch Me Catch Me ゼッタイ
運命だって お似合いだって
そう Nice to Meet You Good to See You きっと
誰にも負けない あなたに世界で
一番一番一番一番 コ・イ・シ・テ・ル

ほら Catch You Catch You
Catch Me Catch Me 待って
こっちをむいて スキだといって

そう Nice to Meet You Good to See You きっと
私の想い あなたのハートに
飛んで飛んで飛んでいけ 迷わない

ほら Catch You Catch You
Catch Me Catch Me ゼッタイ
運命だって お似合いだって

そう Nice to Meet You Good to See You きっと
誰にも負けない あなたに世界で
一番一番一番一番 コ・イ・シ・テ・ル
Gallery